Nokturno will be collaborating with Arts Promotion Centre Finland in their pilot experiment. From May 18th to June 14th 2020 two work pairs will be working in remote residencies.
Artists-in-residence are game artist Simo Santavirta with poet V.S. Luoma-aho and game artist Sanna Väätänen with comic artist Tuomas Tiainen. The residencies will explore working and communicating remotely with a shared goal of creating new art works.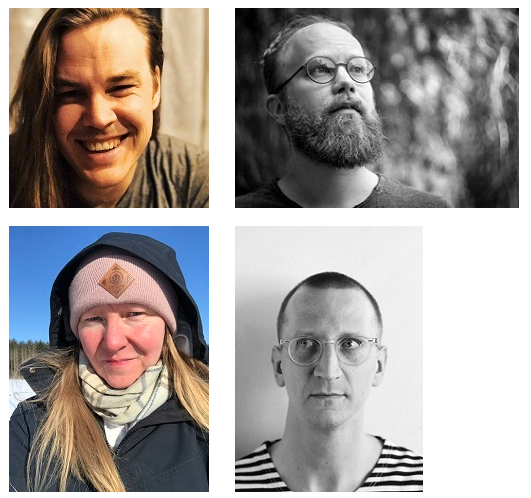 Above from right to left Simo Santavirta and V.S. Luoma-aho. Below from right to left Sanna Väätänen and Tuomas Tiainen.
Arts Promotion Centre Finland's remote residencies are a spin off from our concept of Digital Residence, providing work and gallery space for poets using digital means in their work and artist working in the fields of poetry and digital arts. This time Nokturno is only providing virtual location to residencies, the project is coordinated by the regional artist of game art Jaakko Kemppainen.
"Creating games often takes months or years of work and there are even hundreds of people involved in the making. We wanted to see how game art could react more quickly to events in the world", Kemppainen says.
Remote residencies are made possible and inevitable by the current Corona virus situation and the limitations to meeting other people governments all over the world have made.
Works combining game art and poetry and game art and comics will be released in Nokturno after the residency period. You can also follow their work in a location confirmed later.
More about Arts Promotion Centre Finlands remote residencies (in Finnish).