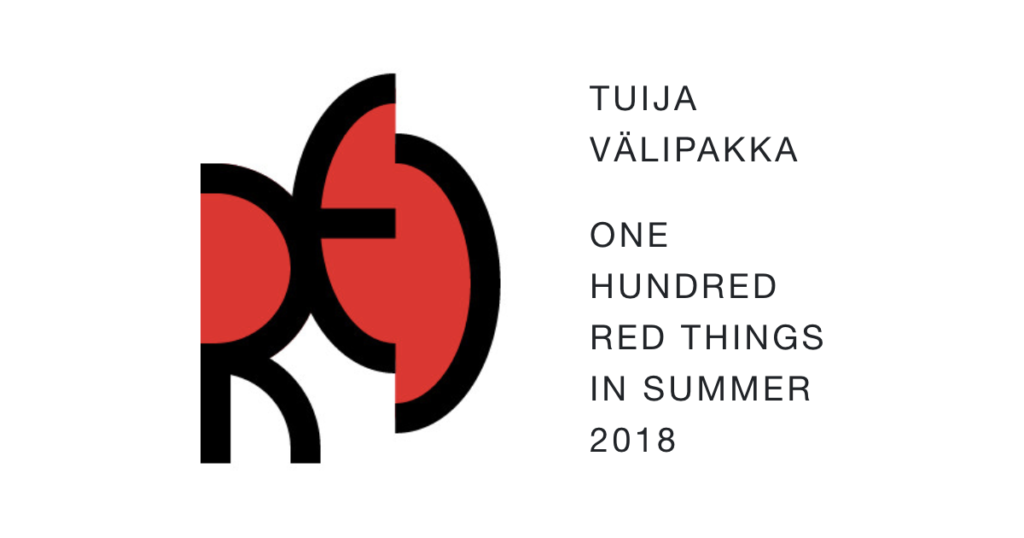 During her residency period at Nokturno´s Digital Residence poet Tuija Välipakka wrote a bookful of poems, altogether one hundred poems to accompany the hundred photographs she took in summer 2018. Her poems and photographs now merge into an interactive work available from now on at Nokturno.fi.
The process was procedural from the beginning: all the photographs in the work were taken and selected according to specific principles and modified according to the atmosphere of the moment. During the residency she wrote poems based on each of those photographs. One Hundred Red Things In Summer 2018 is a playful, interactive work, where you, as a reader, can try to find out which photographs gave birth to which poems. There are right answers but the wrong ones can be just as fascinating.
One Hundred Red Things In Summer 2018 will be available at Nokturno.fi from now on. You can dive into Välipakka´s world of red at residence3.nokturno.fi/red/
"Kuu kuljeskelee ympyrää kuin sateeseen jätetty kosija
nyt se sohii kepillään pimeitä nurkkia, nyt se jo ulvoo
pelkään, että se kompastuu ja nolaa itsensä entisestään
avaan ikkunan ja päästän sen huoneeseen"
Tuija Välipakka was our third poet-in-residence since Fall 2017. The work was realised in collaboration with our web designer Teemu Tuovinen. Nokturno.fi and our virtual residence program The Digital Residence is funded by Kone Foundation and is granted subsidy from the Ministry of Education.
Open call for residencies in Spring  and Fall 2019 starts in January 2019. Stay tuned!