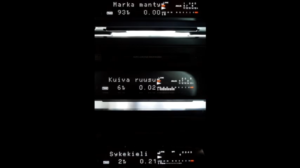 Minidisc-soittimista inspiroitunut äänirunoinstallaatio.
Sound poetry installation inspired by Minidisc players.
Äänirunoteos, joka koostuu usean live-esiintymisen äänimateriaalista.
Sound poetry compilation from live performances.
Äänitaiteilija Olli Aarnin Merkkiääniä -digitaalisessa residenssissä keväällä 2018 luoma uudelleenäänellistetty versio Sini Silverin runosta sekä alkuperäinen runo tekstimuodossa.
A sound poetry remake of a poem by Sini Silveri by sound artist Olli Aarni and the original poem in written form. Created in Nokturno´s Digital Residence in spring 2018.