Runoilija | Author
Robert Holliday
Robert Holliday is a composer/performer residing in Los Angeles, California. Often employing the techniques and processes of composers such as Pauline Oliveros, Jani Christou, John Cage and Steve Reich, he approaches ambient and contemporary experimental music with a unique blend of process oriented composition and free improvisation. Influenced by Jungian psychology, Zen and Deep Listening, he is interested as much in self-reflective inquiry and community building experiences as he is in performing and recording. Recently, Robert has been collaborating with experimental video artists, poets and other electronic musicians in addition to providing sound baths and music instruction in the Los Angeles area. Robert is an MFA graduate of California Institute of the Arts since 2010.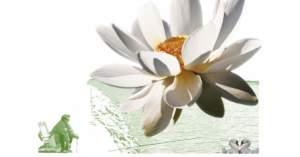 Kirjaimellista immersiota.
A literal immersion.