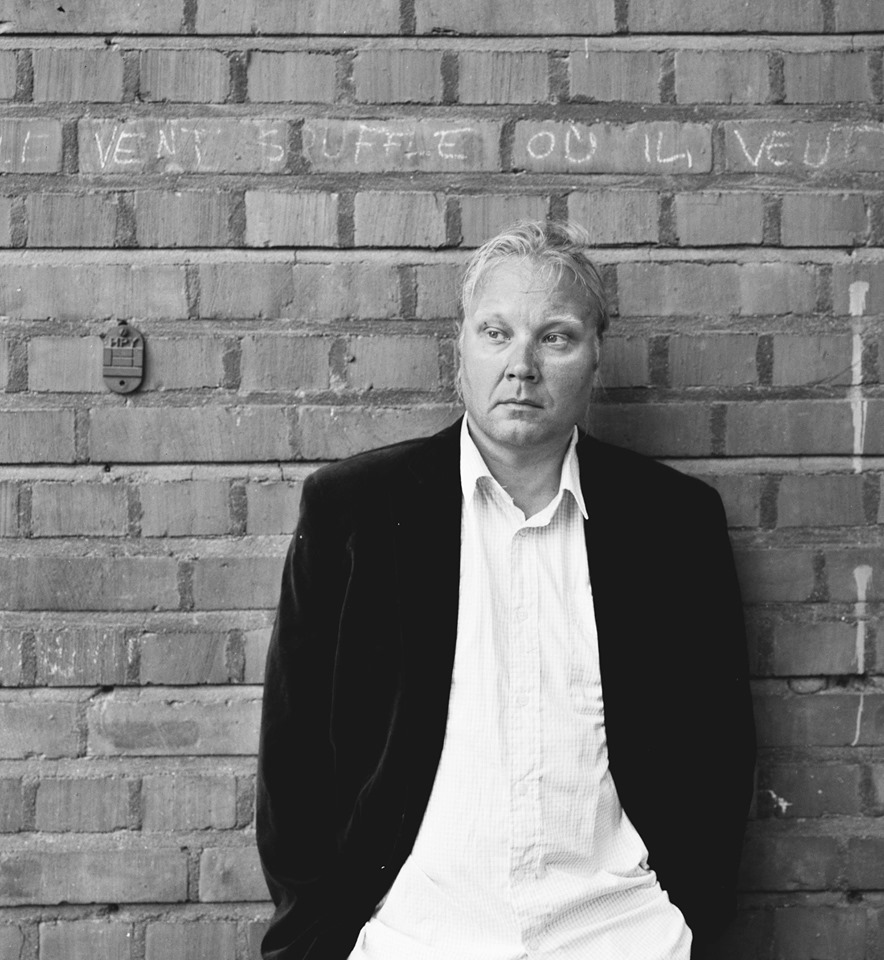 Poet, translator, and long-time editor of literature portal Nokturno, Marko Niemi, passed away on Wednesday, 18 September of a seizure. Marko was one of the founders of Nokturno in 2005 and edited the website from 2006-2014. The site's international standing and significance to the Finnish literary world as a cumulative resource for digital poetry is thanks to Marko's work.
Nokturno also brought the two of us together. First as colleagues, then as life partners. Marko's support was invaluable in practical matters as well as in pondering over issues related to the web portal's maintenance. Our lives were intertwined personally and professionally, and the emptiness Marko leaves behind with his passing is bottomless.
Marko was born in 1974 and was deeply engaged in the Finnish poetry boom of the 2000s as a poet as well as a journalist, layout artist, event manager, and translator. Before his active life in the poetry world, Marko had studied broadly in university: mathematics, programming, philosophy, and literature, too. In addition to editing Nokturno he also helped edit the Vastakaanon (Poesia, 2011) anthology of experimental Finnish poetry, made breakthroughs in programmed poetry with many domestic and international collaborators, and was a driving force within the Poesia cooperative from its founding to his death. Marko tirelessly innovated new ways to develop Finnish poetry, with community efforts above all.
In his art Marko was first and foremost a minimalist. This was evident throughout his oeuvre, starting with his debut collection, Nurousoppi (Ankkuri, 2006). He collaborated with poet Miia Toivio to write Suut (Poesia, 2012), which revitalized the tradition of romantic lyricality by drawing from the methodological traditions of literature. In recent years Marko also wrote about experimenting with structure in an Anthology of Methodological Literature (MKS & Post-Oulipo ry, 2018). Part of the text was based on material is had previously published online, as Marko was also active in the literature blogs of the early 2000s.
As a translator, Marko transcended traditional genres; he translated non-fiction, print and digital poetry, as well as semi-digital hybrid texts. In communal projects, Marko would take on any number of necessary roles, often in the background, being humble by nature. His recent projects included programming a new work Lähes tunnistamaton mahdollisuus menettää by Markku Eskelinen and Maria Matinmikko, and the long-running collaboration he had with poet Mikael Brygger.
Marko's international network was exceptionally broad in Finnish terms, extending from the Nordics to the Baltics and into the Anglo-American literature world. His collaborators included many names central to contemporary experimental and digital poetry (Jim Andrews and Dan Waber among others), with whom Marko updated the literary tradition. They also collaboratively used digital restoration and translation to showcase the work of bygone artists central to this decades-old genre, forever morphing in the age of technological upheaval. These included Ana Maria Uribe and bpNichol. Everyone who worked with Marko recently said he exemplified the same things: dedication, humility, calmness, and benevolence.
Sound poetry was a very personal form of culture for Marko, and he often took his love to the stage when performing as Miia & Marko, together with Miia Toivio. Marko's final published work of sound poetry was a reading of Karri Kokko's experimental Varjofinlandia ("Shadow Finlandia", PoEsia/ntamo 2005/2012). Marko had planned his return to digital poetry as an author himself for about a year. His last new work was an installation at the Helsinki City Hall called Maapallo ("Planet Earth"), shown at the Poetry Moon festival in August. The piece fused the anxiety of the state of the world with nostalgia and love for everything ever experienced during a lifetime on the face of the Earth.
Marko Niemi was a unique force in Finnish literature, whose pioneering work was not as credited as one might have hoped during his lifetime, for all the genius of his writing and his numerous talents. Marko died far too soon, and our sorrow is immense. Long may Marko's contributions and his benevolent spirit live on among us who still inhabit with ever-changing world.
Virpi Vairinen
Editor
Translated by Kasper Salonen
(Image:Olli-Pekka Tennilä)